Can you believe we are already halfway through 2023? As a full-time real estate professional, the past three years have been unlike any other in my experience. Such a blend of mixed messages and metaphors. The sky is falling! Rates are out of control, a recession is coming, and a market crash is around the corner. All-the-while home values are rising, reasonable offers are winning, and buyers are gobbling up whatever sellers are offering. Where is the disaster the talking heads predicted 12, 6, even 3 months ago? Did we miss it or is it still around the corner? Spoiler - I believe the "crash" turned into a soft landing which looks and feels a lot like a normal Real Estate market.
Instead of taking my word for it please make your own conclusions with the cold hard facts I'm about to present. When we are all done going through the numbers I will do my best to predict the future, as well as answer the age-old question, should I buy or sell now, or wait?
Great question. A normal market will vacillate slightly between a buyers and sellers market. In other words, sometimes demand will outpace supply and the sellers have the upper hand, and sometimes demand will lag, inventory rise, and buyers are in the catbird seat. One measure we use is "months of available inventory". Less than 2 months represents a sellers market while more than 4 months is squarely a buyers market. Out of the last 10 years in the tri-county region, we have averaged about 1.9 months of available inventory, so a sellers market has become the norm as I think we all attest to. Sellers Market
Normal
Another way we judge normal is with price appreciation. In January 1990 the median price for a home in California was $194,952. At the end of 2022 it was $774,850. That is an average of 9% per year over the past 33 years. You have no doubt heard that home values have fallen in 2023. In fact I myself predicted this almost a year ago but this is not the real story. The fact is 2021 and 2022 had unprecedented price growth, literally out of control. The fact that 2023 median home price is only down 4% over 2022 is unbelievable.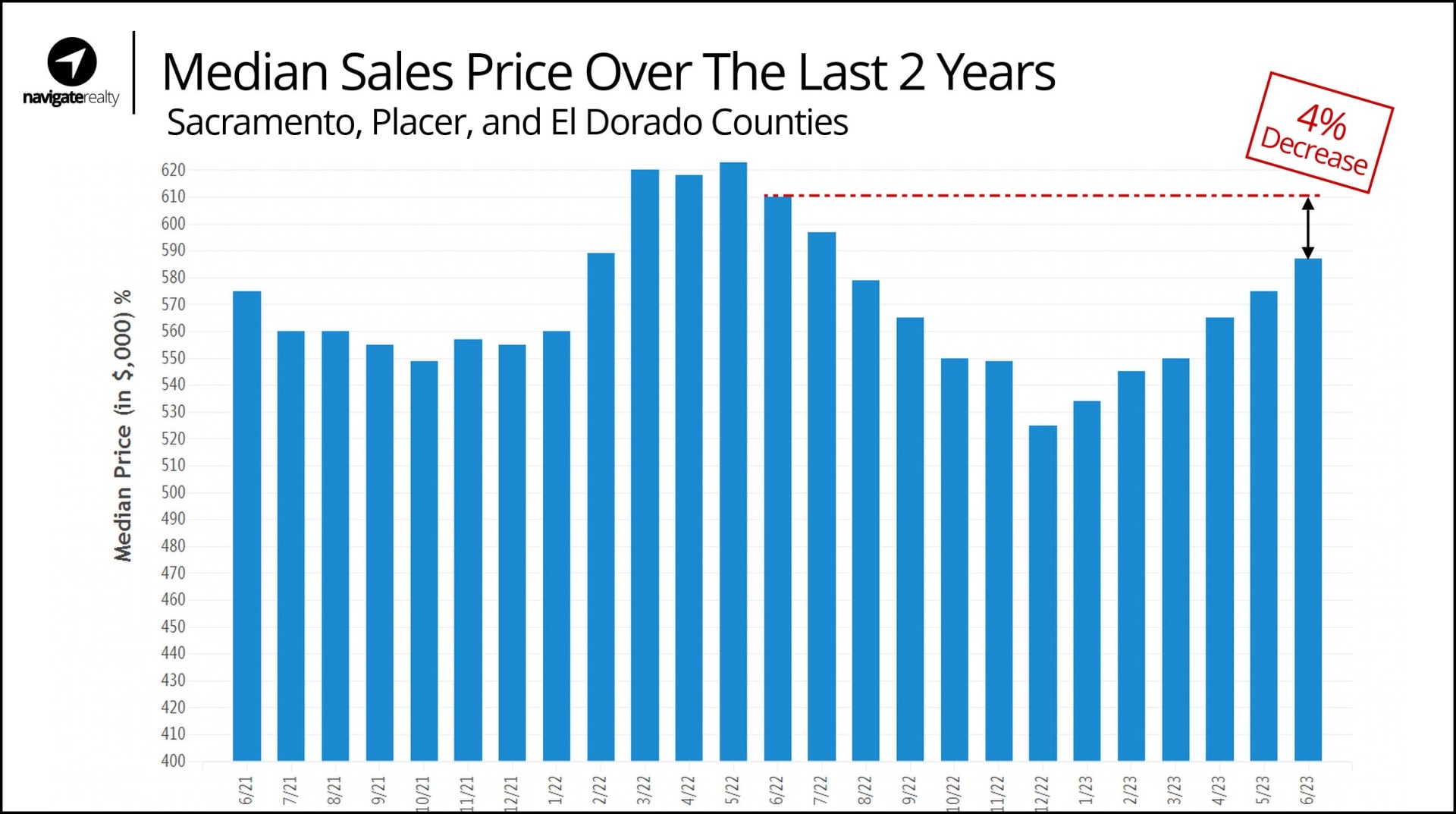 But when you look back at price growth over the past 5 years it becomes evident a price drop is bringing us closer to being normal at an average 8% appreciation. On a side note, if you could adjust the median price for the fact that higher than normal rates are forcing buyers into lower priced homes, I believe the true median price would be closer to a 9% average appreciation over the past 5 years. Price Appreciation
Normal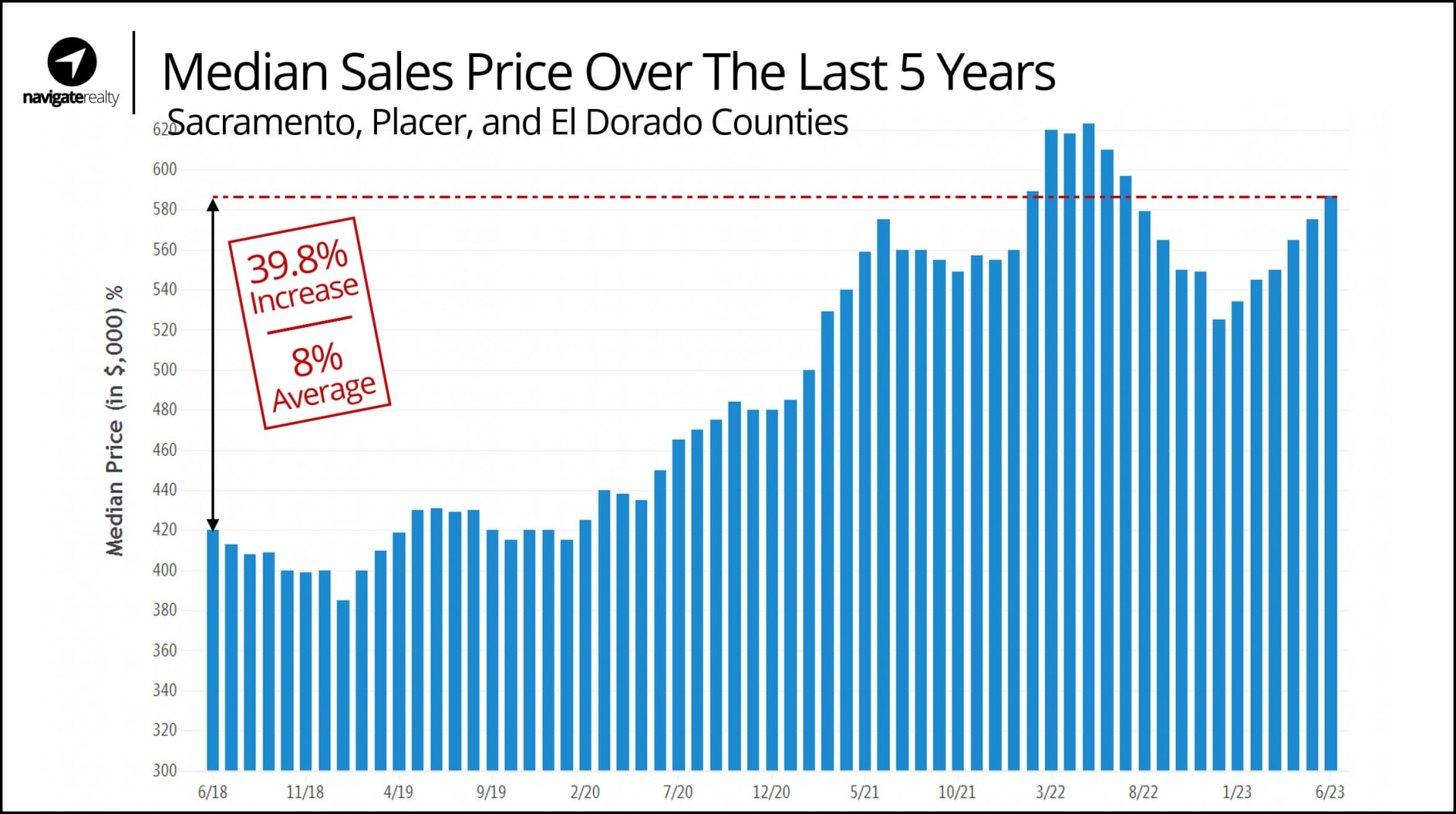 Feeling normal yet? Wait there's more. The elephant in the room is mortgage rates. I think we all agree that today's rates don't feel normal. But that's only because we have been fed artificially low rates based on the Fed's policy of quantitative easing over the past 15 years. It started in 2008 when the Fed was combating the then Great Recession. After reducing the Fed funds rate to effectively zero, it started buying long-term assets like mortgage-backed securities and treasury notes to flood the market with capital and lower interest rates even more all with the aim of encouraging economic growth. Boy, it worked! Over the past 10 years (including the last 12 months) we averaged 4.1% for a 30y fixed rate mortgage.
But If you go all the way back to 1971 (when Freddie Mac started weekly tracking) the average is actually 7.74% Mortgage Rates
Normal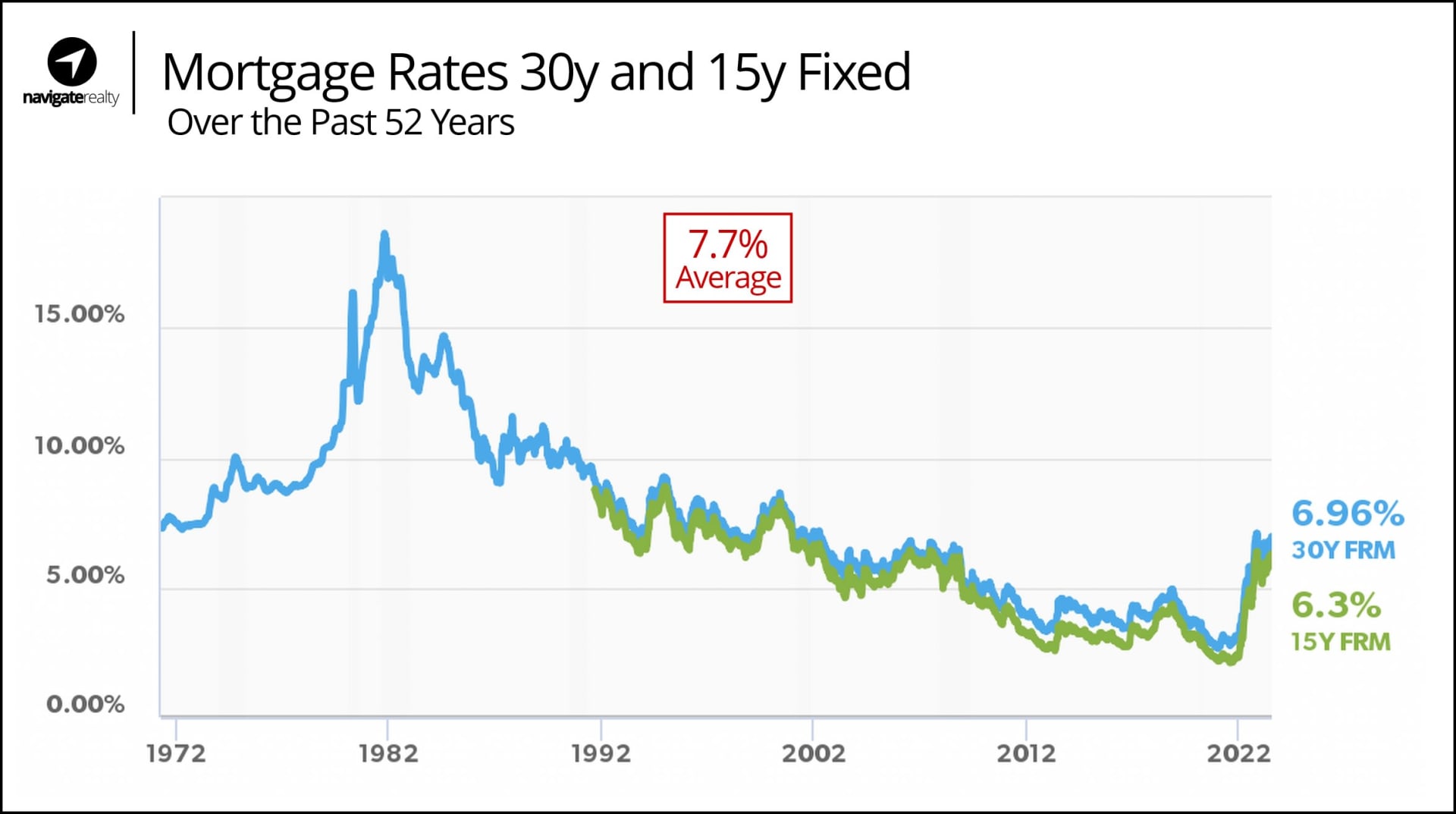 So do you believe like I do? Instead of a pending crash of the housing market we realized a slightly sporadic deceleration into normal. A soft landing.
Rates Will Determine the Trajectory of the Market
Despite my rantings of the last few paragraphs I don't actually think normal is a good word to describe our current housing market. I think we are years away from rewriting what normal will be including the possibility of normal or reasonably attainable Real Estate being a thing of the past. I know that's a strong statement but I believe the past 20 years of the Real Estate market points to a general direction of it slowly slipping out of reach for the everyday hard working American's dream. This is why I'm bullish on Real Estate today as this interesting transition into normalish might be a small window we look back on with longing.
Where the market goes over the next year or two hangs on what happens with mortgage rates. One thing that is not normal about this market is the current volume of sales. In our local market the sales volume is down about 58% for the last 12 months compared to the average volume over the last 10 years.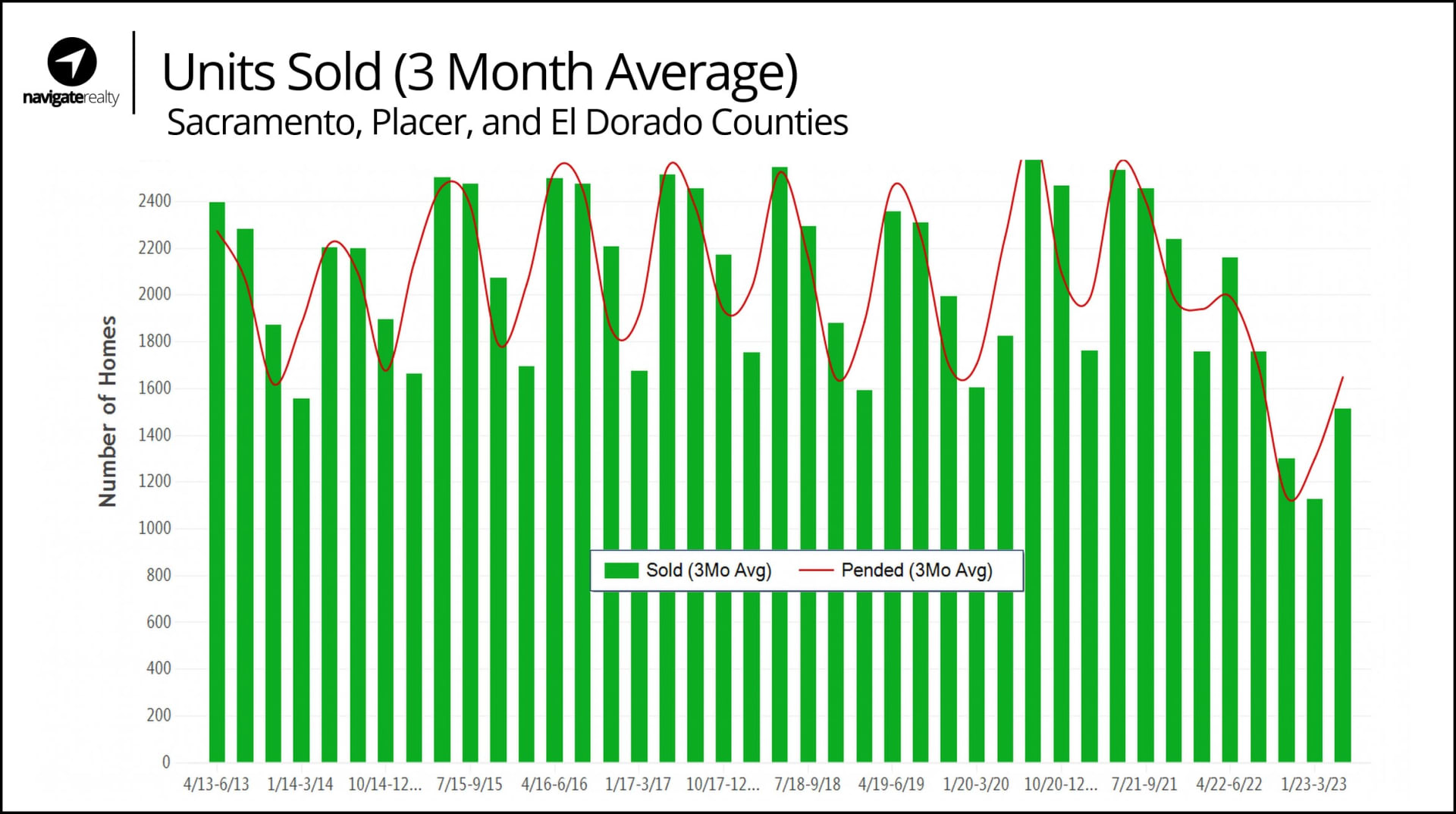 That equates to a pent up demand of potentially 9,000 local buyers and sellers just waiting for mortgage rates to improve. Yes, it just comes down to rates.
Prediction 1: Rates come down to the mid 5% range over the next 18 months.
This is a real possibility. We have already seen inflation begin to wind down. We are expecting the last rate hike from the Fed later this month and pressure from a pending election could influence monetary policy for a last minute boost before the election. So imagine if an extra 9,000 buyers and sellers jump into the market all at the same time on top of what we have now? This would look like 2021 all over again. Skyrocketing prices and 5 to 10 offers on a typical listing. Both as a Real Estate professional and consumer this is not my first choice. I would love to stretch normalish out as long as possible.
Prediction 2: Rates hang in the 6% to 7% range for the next 18 months
This is also quite possible. The Fed will be resistant to see the economy quickly overheat just as it sacrificed so much to bring inflation back from the brink. Even if rates don't really change I predict buyer behavior will. As these unwelcomed normalish mortgage rates hang around we will start to get used to them just as we got used to 4%. Pent up demand will slowly, one by one, hop off the proverbial fence to transact. This very slow increase in volume will tend to keep home prices to a slow and reasonable appreciation rate. This scenario is also not ideal as it will still keep many buyers and sellers looking to better their living situation out of the market.
I am hoping for and believe that we will land somewhere in the middle. Rates slowly moving to the low sixes to high fives. Volume and prices modestly increasing. This next year or two, in my opinion, may be the last, best time to buy we ever see to buy a home. The long term picture for residential Real Estate may steadily move out of reach for the everyday hard working American. So I say buy now and buy often.